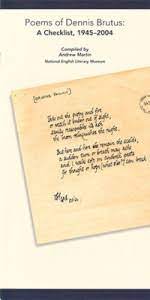 Compiled by Andrew Martin, National English Literary Museum. With a preface by Dennis Brutus and a tribute by Bernth Lindfors. 
Contains a checklist of Brutus's poems and index, as well as Brutus's published collections.
Booklet, paperback. Slight crease at top left corner. Otherwise fine.
Pub: Parallel Press, University of Wisconsin-Madison Libraries.2005.